Garage Door Springs
Back To Our Services
We are a garage door servicing company able to provide a wide range of services meant to help you get a better, more functional and safer garage door. We can handle your door's installation, the installation of a new opener, we can replace parts (such as broken springs) and we can fix just about any other issue you may have too. Our contractors are genuinely professional, they are extremely dedicated and they will provide exquisite, fast, efficient and affordable service at all times. Our previous customers can confirm that the quality of our service is truly high! Call us today!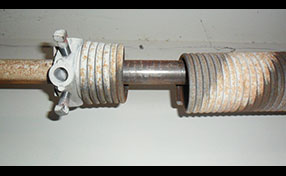 Types of Garage Door Springs
Like other parts of a garage door system, there are several types of springs used in modern products, which include:
Extension Garage Door Springs – Made specifically for door height, extension springs must be carefully selected based on door size and weight, as well as repaired by qualified professionals to prevent costly damage to the door system.
Torsion Coil Trampoline Springs – Designed to withstand the pressure of lifting and lowering the garage door through a twisting action.
Oil Tempered Garage Door Springs – Manufactured by heating to high temperatures and dipped in oil. Must be maintained by a professional garage door repair company to prevent snapping or other types of damage.
Overhead Door Springs – Utilized to support the unique challenges an overhead garage door system demands.
Galvanized Garage Door Torsion Springs – Created by bonding zinc to the surface of the spring, and is regarded as being one of the sturdiest types of garage door springs.
Unfortunately, many homeowners are unaware of maintenance requirements for their garage door springs in Martinez. Like other aspects of a home, an entire garage door system must be regularly inspected and repaired to ensure the system functions properly. A garage door broken spring can lead to an entire system failure, which is why it is vital to have regular maintenance performed by a qualified professional.
When scouring the market for an extension springs repair company, it is important to contact a business who specializes in not only garage door springs in Martinez, but also one capable of troubleshooting ailments of a garage door system that may be straining to extension garage door springs in Martinez. In the unfortunate even the Clopay Torsion Spring System suffers extensive damage, the repair company must specialize in garage door torsion springs replacement to ensure the work performed not only corrects the current problem, but inhibits future garage door spring issues.